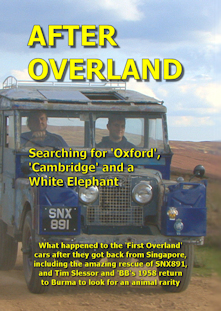 Click here to see the cover enlarged.
The 'After Overland' DVD is available in PAL and NTSC television formats. PAL is for Europe and countries which have a generally British tradition (eg Australia, New Zealand, South Africa). NTSC is for the Americas, West Indies and Japan. For a full list of countries, click here.
[The NTSC discs are prepared to special order, so may take slightly longer to despatch than the PAL ones — if there's a significant delay, I'll inform you.]
Do not confuse this with DVD 'Region Codes' — 'After Overland' will play in all regions.