Bookings & Charges
Moorsholm Memorial Hall is very versatile, and you can book either the Main Hall or the Supper Room (or both) for a variety of purposes.
Children's Party? No problem. Indoor Sports? We can help. Talk to our Secretary (as below) and we'll do all we can to help your event to be a success. And if you're not sure whether your idea is feasible, and you just want to try it out for a couple of weeks, then discuss it, and we may be able to offer you a 'taster' rate for a short while to get you started.
And see how magnificent the Hall can look for a wedding...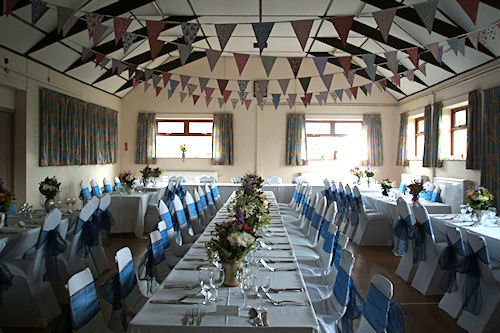 (Photo courtesy Ellie & Steve Luscombe)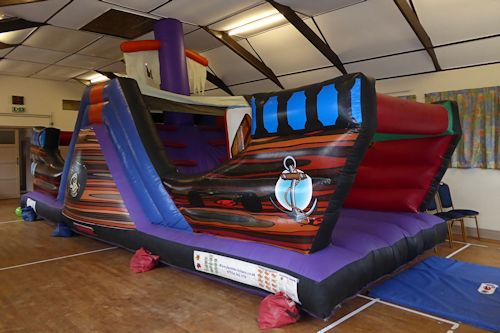 ... or with a Bouncy Castle.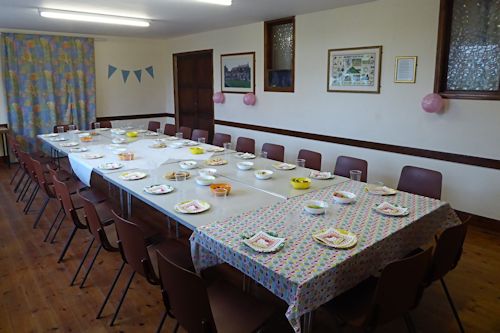 With the Main Hall full of bouncy castle, there's still space for party eating in the Supper Room.
For a plan of the Hall, with location of power points, click the 'Dimensions' button on the left.
To book the Hall, please contact:
Sheena Smith
Secretary, Moorsholm Memorial Hall
Hazeltree Farm
Moorsholm
SALTBURN
Yorkshire TS12 3JH

Phone: 01287 660839
secretary@moorsholmmemorialhall.org.uk

To see the current charges, please click this link to download them as a PDF document.